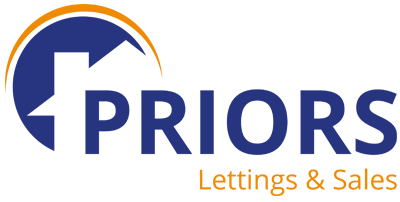 1. Purpose of this Policy
Priors Letting and Estate Agents respects your privacy and is committed to protecting your personal data. This privacy notice provides information on how Priors Letting and Estate Agents collects and processes your personal data. Our website and our services are not intended for children and we do not knowingly collect data relating to children.
The law on data protection provides that a company may collect and process personal data. There are a number of legal bases pursuant to which a company may collect and process your data. The bases on which we rely on and may collect and process your personal data are:-
with your consent; or
in specific situations where we need your personal data in order to comply with our contractual obligations in connection with the services we provide to clients; or
if the law requires us to; or
where we require your personal data to pursue our legitimate interest in a way which might reasonably be expected as part of running our business and it does not materially impact your rights, freedom or interests
2. About Us 
Priors Letting and Estate Agents is our trading name.  Mark J Blencowe is the controller and responsible for your personal data. 
Mark J Blencowe is the data privacy manager who is responsible for overseeing questions in relation to this privacy notice. If you have any questions about this privacy notice, including any requests to exercise your legal rights, please contact the data privacy manager using the details set out below. 
Name or title of data privacy manager:  Mark J Blencowe
Email address:  mark@wmprior.co.uk
Postal address:  90 Western Road, Brighton BN3 1GG
Telephone number:  01273 772385
 (option 1)
You have the right to make a complaint at any time to the Information Commissioner's Office (ICO), the UK supervisory authority for data protection issues (www.ico.org.uk). We would, however, appreciate the chance to deal with your concerns before you approach the ICO so please contact us in the first instance. 
3. Your duty to inform us of changes
It is important that the personal data we hold about you is accurate and current. Please keep us informed if your personal data changes during your relationship with us.
4. Third-party website links
Our website may include links to third-party websites, plug-ins and applications. Clicking on those links or enabling those connections may allow third parties to collect or share data about you. We do not control these third-party websites and are not responsible for their privacy statements. When you leave our website, we encourage you to read the privacy notice of every website you visit.
5. The data we collect about you
Personal data, means any information about an individual from which that person can be identified. It does not include data where the identity has been removed (anonymous data).
We may collect, use, store and transfer different kinds of personal data. The data may include:
Your name, marital status, title, date of birth and gender
Contact details such as your address, email address and telephone numbers
Financial information such as bank account and payment card details
Technical data which may include internet protocol (IP) address
Profile Data includes your interests, preferences, feedback and survey responses  
Usage Date includes information about how you use our website, products and services
We may on occasion collect any Special Categories of Personal Data about you (this may include details about your religious beliefs). 
6. If you fail to provide personal data
Where we need to collect personal data by law, or under the terms of a contract we have with you and you fail to provide that data when requested, we may not be able to perform the contract we have or are trying to enter into with you to provide services. In this case, we may have to cancel a service you have with us but we will notify you if this is the case at the time. 
7. How do we collect your personal data?
We use different methods to collect data from and about you including:
When you visit our website and enter information online 
When you request that we provide a service to you
When you engage with us on social media
When you contact us by any means e.g. with queries, to report disrepair, or complaints
When you provide feedback to us on our services
When you fill in any forms 
When you make payment of any sums due
When you've given a third party permission to share with us the information they hold about you
When a previous agent, or Landlord at a property we manage passes this information to us
We collect data from publicly-available sources (such as Land Registry) when you have given your consent to share information or where the information is made public as a matter of law
As you interact with our website, we may automatically collect technical data about your equipment, browsing actions and patterns. We collect this personal data by using cookies, server logs and other similar technologies  
8. How and why we use your personal data
We will only use your personal data when the law allows us to. Most commonly, we will use your personal data in the following circumstances:
Where we need to perform the contract we are about to enter into or have entered into with you or we need to perform the contract we are about to enter into or have entered into with one of our clients
Where it is necessary for our legitimate interests (or those of a third party) and your interests and fundamental rights do not override those interests
Where we need to comply with a legal or regulatory obligation
Where we have your explicit consent to do so
Examples of how and when we may use your personal data are as follows:
To respond to any reports of disrepair, queries or complaints concerning a property that we manage 
To communicate with you about the services we are providing
To communicate with you concerning rent or service charge due or paid
To protect our business and your account from fraud and other illegal activities
To process payments and to prevent fraudulent transactions 
To send you communications required by law or which are necessary to inform you about our changes to the services we provide you 
To comply with our contractual or legal obligations to share data with law enforcement agencies
To book/arrange appointment requests (for example with a surveyor or contractor attending the property)
You may contact us at any time to confirm or amend your preference details to ensure that you continue to receive the information that you'd like in the way you want to receive it. 
We will never sell your information to third parties. 
9. Cookies 
You can set your browser to refuse all or some browser cookies, or to alert you when websites set or access cookies. If you disable or refuse cookies, please note that some parts of this website may become inaccessible or not function properly. 
10. Who do we share your data with 
We may have to share your personal data with trusted third parties. Examples include:
Service providers such as IT companies who support our website and other business systems
Contractors such builders, plumbers, gas engineers, electricians, pest control
Utility service providers, local authorities, tenant deposit protection schemes 
Professionals such as surveyors, accountants, engineers or solicitors
Insurance brokers, agents, bankers, auditors or insurance providers
Credit Reference Agencies [such as Rent Shield]
Regulators and other authorities or fraud prevention agencies who require reporting of processing activities in certain circumstances
In the case of joint tenants, landlords or joint guarantors with the other parties who jointly combined make up the tenant, landlord or guarantor
Other parties with a legitimate interest such as lenders, superior landlords, management companies or residents associations Third parties to whom we may choose to sell, transfer, or divest parts of our business or its assets. Alternatively, we may seek to acquire other businesses or merge with them or carry our internal corporate restructuring. If a change happens to our business, then the new business partners, owners or corporate entities may use your personal data in the same way as set out in this privacy policy. 
We require all third parties to respect the security of your personal data and to treat it in accordance with the law.
We only provide the information they need to perform their specific service, and require all third parties to respect the security of your personal data and to treat it in accordance with the law. We do not allow our third-party service providers to use your personal data for their own purposes and only permit them to process your personal data for specified purposes and in accordance with our instructions.
11. How we keep your data safe
We have put in place appropriate security measures to prevent your personal data from being accidentally lost, used or accessed in an unauthorised way, altered or disclosed. In addition, we limit access to your personal data to those employees, agents, contractors and other third parties who have a business need to know. They will only process your personal data on our instructions and they are subject to a duty of confidentiality. 
We have put in place procedures to deal with any suspected personal data breach and will notify you and any applicable regulator of a breach where we are legally required to do so.
12. How long we retain your personal data
We will only retain your personal data for as long as necessary to fulfil the purposes we collected it for, including for the purposes of satisfying any legal, accounting, or reporting requirements. 
To determine the appropriate retention period for personal data, we consider the amount, nature, and sensitivity of the personal data, the potential risk of harm from unauthorised use or disclosure of your personal data, the purposes for which we process your personal data and whether we can achieve those purposes through other means, and the applicable legal requirements.
In some circumstances you can ask us to delete your data. In some circumstances we may anonymise your personal data (so that it can no longer be associated with you) for research or statistical purposes in which case we may use this information indefinitely without further notice to you. 
13. Your rights over your personal data 
Under certain circumstances, you have rights under data protection laws in relation to your personal data, which include a right to request: 
Access to your personal data
The correction of your personal data
Restriction or erasure of your personal data
Transfer of your personal data
That any consent previously given to data use be withdrawn
14. Changes to this policy 
We may need to update this Privacy Policy from time to time. We'll notify you of any substantial changes that may affect the way that we collect, store, handle and keep safe your personal data. You will also always be able to view the most up to date version of our Privacy Policy on our website.
15. Questions
If you have any questions, please contact our data privacy manager; details at 2 above.